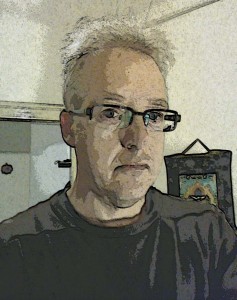 I'm a British poet, writer of weird fiction, translator and journalist. I was born in 1961 in England, grew up in Scotland, and lean far more towards the Scottish side of my heritage.
My first poetry collection, The Golden Age, was published in 1997, and reissued on Kindle in 2013, and my second poetry collection, The Musical Box of Wonders, was published by H. Harksen Productions in 2011. You can read more about the reception for both of them here. I'm also official clan poet of Clan Mackintosh.
I write predominantly dark, weird, imaginative and fantastic fiction, because those are the genres that speak to my imagination, my intellect, my passions and my experience. My first short story published in book form, "The People of the Island," in Eldritch Horrors: Dark Tales, from H. Harksen Productions, received an Honorable Mention from Ellen Datlow in her Best Horror of the Year Volume Two list for 2009. My work appears nowadays in venues including Necronomicum and See the Elephant magazines, and my first collection of dark/weird/transgressive fiction, Black Propaganda, including "The People of the Island," is now out from H. Harksen Productions.
My co-translations from the Japanese (done with my Japanese first wife, Maki Sugiyama) include Nip the Buds, Shoot the Kids (1995) by the 1994 Nobel Prize-winner Kenzaburo Oe, which won a Japan Festival Award. I co-produced award-winning short films with my Hungarian second wife, Lilla Anna Ban.
I write regular literary journalism and commentary on electronic publishing and e-reading.  I'm Associate Editor of the ebooks, electronic publishing and literary website TeleRead, where I was rated #1 of "The 12 Publishing Shakers You Should Be Following" by The Independent Publishing Magazine.
I read History and History of Art at Trinity College, Cambridge, and have lived and worked in Asia and Central Europe. Currently I divide my time between Hungary and other locations. I'm separated, and the proud father of two beautiful half-Hungarian daughters. I'm active in the BDSM community.
For contact details, see my Contact page.
[Top]