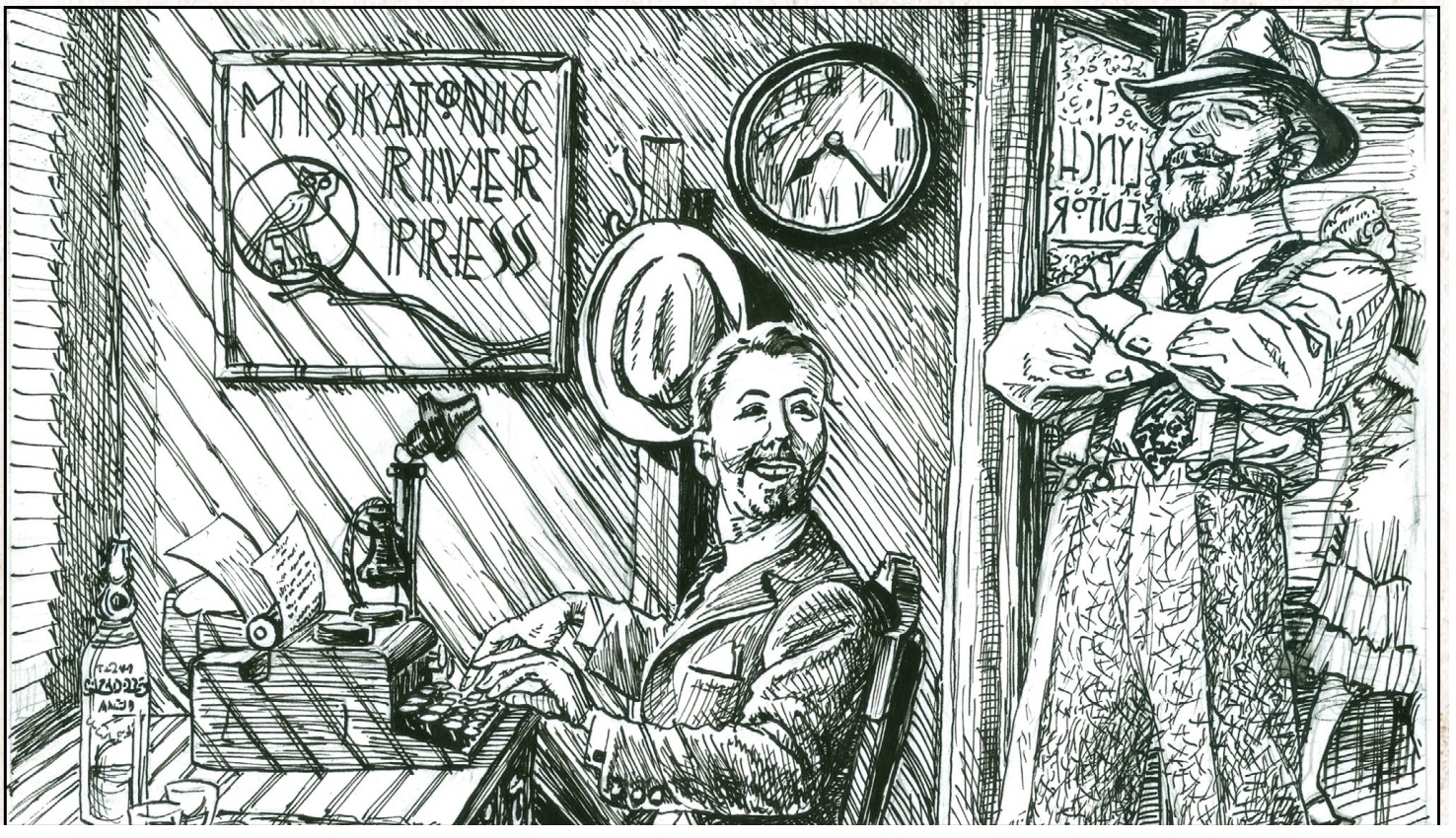 As the blurb for Stygian Fox's Kickstarter explains, "Miskatonic River Press released New Tales of the Miskatonic Valley to great acclaim and it quickly became a favourite among Call of Cthulhu Keepers." This is essentially a resurrection of a much-loved scenario book, originally published in 2009 as a follow-up to Chaosium's 1991 Tales of the Miskatonic Valley, which also gives an opportunity to see how RPG publishing has moved on since Chaosium's 1991 effort and the original New Tales of the Miskatonic Valley. Tom Lynch's personal dedication to the book is a heartfelt reminiscence of Keith Herber, CEO of Miskatonic River Press, lamenting the sad demise of the publisher and the publishing house. Keith Herber was a powerhouse of scenario-writing in the early days of Call of Cthulhu, producing almost 50 scenarios for Chaosium in the 1980s and early 1990s, and it's not surprising that his tragically short re-emergence as founder of Miskatonic River Press in 2003 has left a lasting impression on the modern Lovecraftian gaming scene. The whole exercise obviously has had a lot of love lavished on it, and Call of Cthulhu players are the fortunate beneficiaries. 

The original six scenarios in New Tales have stood the test of time and are reprinted in full, freshly rejacketed and statted up, not only to run on Call of Cthulhu 7th edition rules, but also to bring their presentation up to the kind of standard we've come to expect from the newly reborn Chaosium and their associated projects. There's an additional new scenario from Seth Skorkowsky, "A Mother's Love," extending the book's coverage to Innsmouth with an appropriately twisted tale of miscegenation and mayhem. I'd still be happy to play these scenarios through with earlier Call of Cthulhu rules, or indeed with Trail of Cthulhu or other systems, because they focus so much on drama and story rather than pure game mechanics. There are plenty of human protagonists and antagonists with their own mundane agendas that can trip up the players as effectively as any scheming cultists. The unnatural horrors that do appear are a refreshing mixture of new takes on Cthulhu Mythos staples and original creations, and should be enough to stimulate the most jaded Call of Cthulhu grognard.

The real surprise for anyone familiar with the black-and-white layout and fairly limited art of the original is the visual presentation of the 2nd edition. Stygian Fox has done a frankly incredible job on the production values. The maps of Arkham, Dunwich and other favourite Lovecraftian locales are the best I've seen, even when set against the superb cartography in the latest Chaosium products, and the handouts and period prop pieces are equally luscious. Stygian Fox was working off a Kickstarter that closed at roughly 400% of its target, and the money has been well spent. There are even terrific multi-page handouts for pre-rolled characters. "The original is black and white and 130 pages," Stygian Fox noted. They managed to expand the final publication to 240 full-colour pages.

Would I recommend this book to anyone who had the original edition? In a heartbeat. It's not just the extra material and the restatting of the stories to Call of Cthulhu 7th edition. It's the superlative production, which is bound to be usable in other campaigns. Indeed, if you want to run a 1920s campaign in canonical Lovecraft Country, I'd advocate this book as a go-to for mapping out all the core locations – Arkham, Dunwich, Innsmouth, Kingsport, and environs – in immaculate style. The full-colour double-page panorama of Arkham, for instance, captures that Mythos-ical city exactly as I've always imagined it. Furthermore, Chaosium still hasn't released updated 7th editions of many of its own classic Lovecraft Country scenario books – such as Keith Herber's original H.P. Lovecraft's Arkham and H.P. Lovecraft's Dunwich. That puts New Tales of the Miskatonic Valley, 2nd edition to the fore as the Number One CoC 7th edition canonical Lovecraft Country supplement – a position it full deserves to occupy. It's a testament to the current health and vigour of Call of Cthulhu gaming, and a worthy tribute to its progenitor.
Introduction by Peter Holman, Afterword by Helen Marshall
D.P. Watt is already a Shirley Jackson Award nominee for his 2016 collection from Undertow Publications, almost insentient, almost divine, so he's well established among readers of weird and dark fiction. In fact, he's written 8 books by my count, including this one. Despite the fact that Petals and Violins comes heavily flagged as a chunk of the Weird Renaissance, with an afterword by Helen Marshall, there are plenty of stories here that would appeal to the most recherché traditional ghost story enthusiast. D.P. Watt is not especially a representative of any particular school or trend, and very much his own animal. The author has said in one past interview that "The process of composition changes with each story, and I have no particular allegiance to any movement, nor indeed anything as well-formed as a technique that I can deploy. My writing seems now to be more driven by scenes that emerge as I am working." (Bibliophagus, 2015) That's certainly what comes across here, and it's a process that's to be welcomed.

The opening story, "Blood and Smoke, Vinegar and Ashes," for instance, is a tale of folk alchemy in rural Poland, and the remarkable results achievable by the quoted ingredients and others; M.R. James could have well produced his own version of the theme. "Mizpah" and "The Magician, or, Crab Lines" also have that flavour of folk horror, in narratives closer to Daphne du Maurier's The House on the Strand. (Indeed, du Maurier's blend of psychological tension, the paranormal and supernatural, and a very strong English sense of place and the past, finds substantial echoes in D.P. Watts's work.) The most ambitious, and distinctive, story in the book is "Conflagration: Immoral Vignettes," a slideshow of historical, tragical tableaux featuring writers from 1895 to the present, from August Strindberg to Tadeusz Kantor. D.P. Watt has certainly experimented plenty with form in the past, notably in his novella The Ten Dictates of Alfred Tesseller, and this is the most stylistically extreme story in the collection – and, in my opinion, one of the best. I could go on and on about the value of using history and aesthetics as imaginative resources, instead of typical horror set-dressing or weird psychobabble, but it definitely works. Any more traditional reader who balks at this approach is advised to stick with it. "The Pedagogue, or, They Muttered" is more in the Lovecraftian vein of pedantic academia touching cosmic horror, while "A Species of the Dead" is closer to psychological horror, where the disturbance of the natural order is purely social and mental.

It goes without saying that a writer this experienced is fully on top of his craft, and can turn a phrase or string a narrative with hooks. Weird or dark fiction, ghost stories, horror or surrealism, whatever you call it, this loose cluster of genres is in rude good health in Britain right now, and D.P. Watt is a tremendously accomplished practitioner. Petals and Violins is a box of dark gems.

[Top]