A review of Petals and Violins: Fifteen Unsettling Tales, by D.P. Watt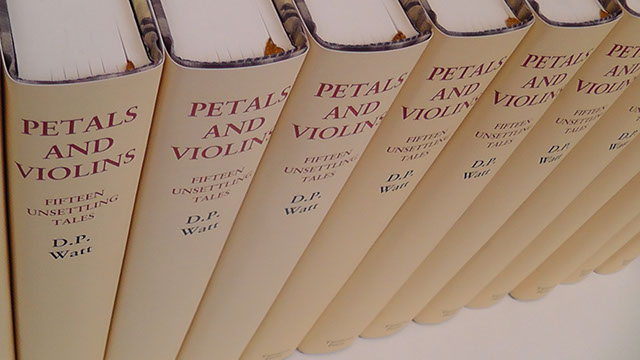 Introduction by Peter Holman, Afterword by Helen Marshall
D.P. Watt is already a Shirley Jackson Award nominee for his 2016 collection from Undertow Publications, almost insentient, almost divine, so he's well established among readers of weird and dark fiction. In fact, he's written 8 books by my count, including this one. Despite the fact that Petals and Violins comes heavily flagged as a chunk of the Weird Renaissance, with an afterword by Helen Marshall, there are plenty of stories here that would appeal to the most recherché traditional ghost story enthusiast. D.P. Watt is not especially a representative of any particular school or trend, and very much his own animal. The author has said in one past interview that "The process of composition changes with each story, and I have no particular allegiance to any movement, nor indeed anything as well-formed as a technique that I can deploy. My writing seems now to be more driven by scenes that emerge as I am working." (Bibliophagus, 2015) That's certainly what comes across here, and it's a process that's to be welcomed.

The opening story, "Blood and Smoke, Vinegar and Ashes," for instance, is a tale of folk alchemy in rural Poland, and the remarkable results achievable by the quoted ingredients and others; M.R. James could have well produced his own version of the theme. "Mizpah" and "The Magician, or, Crab Lines" also have that flavour of folk horror, in narratives closer to Daphne du Maurier's The House on the Strand. (Indeed, du Maurier's blend of psychological tension, the paranormal and supernatural, and a very strong English sense of place and the past, finds substantial echoes in D.P. Watts's work.) The most ambitious, and distinctive, story in the book is "Conflagration: Immoral Vignettes," a slideshow of historical, tragical tableaux featuring writers from 1895 to the present, from August Strindberg to Tadeusz Kantor. D.P. Watt has certainly experimented plenty with form in the past, notably in his novella The Ten Dictates of Alfred Tesseller, and this is the most stylistically extreme story in the collection – and, in my opinion, one of the best. I could go on and on about the value of using history and aesthetics as imaginative resources, instead of typical horror set-dressing or weird psychobabble, but it definitely works. Any more traditional reader who balks at this approach is advised to stick with it. "The Pedagogue, or, They Muttered" is more in the Lovecraftian vein of pedantic academia touching cosmic horror, while "A Species of the Dead" is closer to psychological horror, where the disturbance of the natural order is purely social and mental.

It goes without saying that a writer this experienced is fully on top of his craft, and can turn a phrase or string a narrative with hooks. Weird or dark fiction, ghost stories, horror or surrealism, whatever you call it, this loose cluster of genres is in rude good health in Britain right now, and D.P. Watt is a tremendously accomplished practitioner. Petals and Violins is a box of dark gems.