A review of The Boughs Withered (When I Told Them My Dreams), by Maura McHugh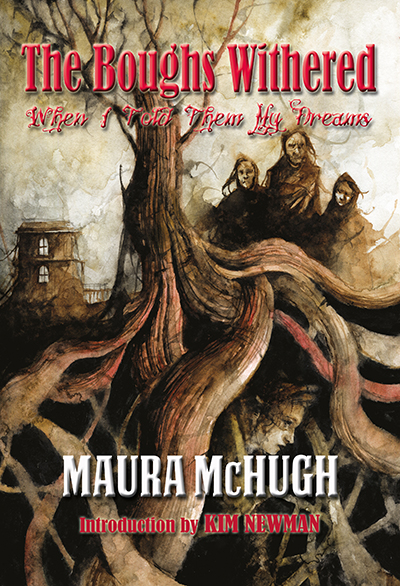 Irish short story and comic book writer and critic Maura McHugh has appeared in so many venues, including horror and weird fiction bastion Black Static and prestige anthologies like Joe S. Pulver's Cassilda's Song, that it comes as something of a surprise to learn that this is her first story collection. But so it is, spanning some 15 years of work, with 20 dark and weird tales, 4 of them original to this volume. With a title cheekily adapted from a verse of W.B. Yeats, a cover design by the ever-inspiring Daniele Serra, and the usual high production values of NewCon Press, The Boughs Withered (When I Told Them My Dreams) is an attractive enough package on the outside. What's it like on the inside?
I'm glad to be able to report that The Boughs Withered is refreshingly diverse, varied in tone, diction, setting and even genre niche, and more imaginatively rich and highly coloured than many contemporary debut weird and dark fiction collections. There's a snap to the dialogue and an engaging narrative pulse best captured in stories like "Spooky Girl" and "The Gift of the Sea." It's typical of Maura McHugh's writing that the latter story manages to marry modern post-GFC Ireland with the spirit of Celtic mythology seamlessly. I don't know if this is some kind of Flann O'Brien Irish gift to speak in many tongues, but it certainly makes for some highly enjoyable reading. The author commands a whole gamut of styles, and hardly ever leaves you feeling that her wordplay is wasted or overwrought. The settings also range from the Russia of legend to modern New York, with Ireland taking a leading but by no means an exclusive role, and some of that ranging afield has clearly been pivotal to her development as a writer, as she explains in her Afterword. She may write to "intuit the overlooked people who have been silenced," but this is by no means her only concern. One of her most Irish historical stories, "Home," is also one where cosmic horror slips into the picture, as it does in "The Diet." Then again, at least one other story, "The Hanging Tree," is "almost not supernatural at all" – but still very unsettling.
I don't know what kind of expectations you might come to this book with, but chances are you'll find them transcended. There's infinite enough variety in it to upset anyone's preconceptions. You'll be spooked, but you'll also be thoroughly entertained. That's a far more important thing than is sometimes realized, and far rarer too. Maura McHugh brings it off in style. The Boughs Withered is a book you're likely to come back to again and again just for the sheer pleasure of reading it. Now how uncommon, and how important, is that?