A review of The Ballet of Dr Caligari and Madder Mysteries, by Reggie Oliver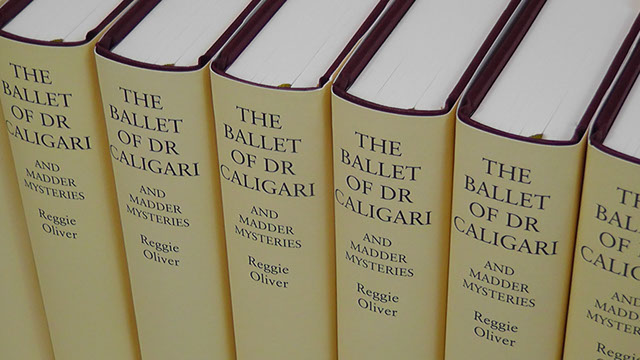 Reggie Oliver has become an institution in modern British horror, producing volume after volume of finely crafted stories in the best tradition of weird fiction and ghost stories. Thanks to him, any reader who enjoys tales of this kind has a hugely enlarged bill of fare to sample – this is his eighth collection, containing thirteen stories. It's produced to the usual superlative standard of Tartarus Press collectible editions, although for anyone who can't afford the very high, but completely justified, hardback price, there are equally high-quality ebook copies in various formats available from Tartarus, as well as paperback. So how mad, and how mysterious, is it?
A couple of the stories here are straight recreations or completions of the work of M.R. James. " The Game of Bear " completes an unfinished story by James in exactly the kind of manner a Jamesian fan could expect, with a suitably ghastly conclusion. "The Devil's Funeral" is a historical ghost story in the epistolary style mastered by James, concerning an appropriately folklorish local tradition and a haunted clergyman. If you come to Reggie Oliver's work looking for such pleasures, you'll find them in plenty. Jamesian antiquarian ghost stories are only part of his range, though. There are other stories here with a strong antiquarian and historical dimension – "A Donkey at the Mysteries," "The Endless Corridor," "The Vampyre Trap," "Lady with a Rose" – but they are mostly either framed in a much more contemporary context, or have a very different take on the narrative. "The Vampyre Trap," for example, is more of a historical detective mystery than a ghost story, though with a strong gothic dimension. And the historical and scholarly trappings are often more in the spirit of that other great British master of the weird tale, Robert Aickman, with all the appropriately surreal and psychologically ambiguous flavour. "The Ballet of Dr Caligari" itself, with its disturbing evocation of a demonically influential stage piece, or "The Final Stage," a nightmare dream journey through fragments of identity in masks and mirrors, smack of quintessential Aickman. Reggie Oliver is far beyond just a follower of the Jamesian tradition. He does have many styles and registers, from the genially satirical to the historical pastiche, but of all the dark and weird tales I've read, at least one of his stories sticks in my mind as one of the few that has genuinely scared and disturbed me, and in this jaded age, that's saying something.
The classic English ghost story, then is very much alive in Reggie Oliver's hands. It's also far beyond what it appears to be on the surface, even if those surface aspects will be the chief attraction for many readers. A supremely enjoyable volume, from a writer who seems to go from strength to strength.